Database Publishing with EasyCatalog for Indesign
EasyCatalog | Go to Download | is a complete database publishing solution combines your data from different sources with the content of an InDesign document. This connection is bi-directional – changes made in the document can also be written back to the original source of the data.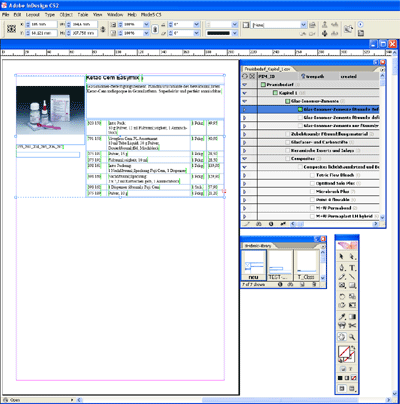 Fig.: Easy Catalog – Template, Data Navigator, Template Box
The document content is constantly monitored and thus enables the user to quickly determine which records and fields were added. This document monitoring feature offers several benefits.

Watch EasyCatalog Screen Movie

EasyCatalog Screencast: "Automaticall create tables from attributes in a PIM-system".
Functions of EasyCatalog
EasyCatalog allows you to:
create layout templates in Adobe Indesign and connect the templates with fields of a database;
automatically produce page series based on these templates;
rework these pages in Indesign when needed;
run an update to the document in case of short-term changes in the dataset (e.g. price changes);
to save up to 80% working time for the creation of high-quality print catalogs.
All these functions can be used without any programming skills. The plug-in is therefore ideally suited for graphic designer with experience in the use of Indesign. Download the demo version of EasyCatalog and learn more about the professional way of automated product data layout creation.
Benefits of EasyCatalog
Increased productivity
EasyCatalog increases productivity for catalog creation by up to 80% if compared to the traditional approach.
Easy data import
Data can be imported quickly and efficiently from a variety of different data sources. The time-consuming manual entering of data is eliminated.
Error prevention
Errors are minimized as the data come directly from the data source without having to be re-entered.
Error detection
Errors are detected automatically. As part of the workflow, EasyCatalog can highlight any fields that do not match the original data and either automatically correct the errors or just leave them highlighted, so you can correct them in the document by hand.
Grouping and filtering of data before typesetting
Data that are, e.g., only relevant for a particular document area, may be filtered, grouped and displayed separately. The filtering of the data reduces the time you would spend searching through data that is not needed for your current task.

EasyCatalog Demo-Version herunterladen

EasyCatalog kaufen

EasyCatalog Quick Tutorial
Tables in EasyCatalog
How to automatically adapt the number of table columns to the number of attributes in a product from your PIM-system
EasyCatalog - Current Downloads